21-22 NOVEMBER 2023
LONDON
The 6th annual BEYOND conference is taking place in London this year - join us for a unique gathering of current and future innovators focused on Research and Development across the Creative Industries.
BEYOND 2023 is heading to the prestigious Royal Institution in London this year and bringing as ever a compelling, thought-provoking programme to an audience of world-leading researchers, makers, investors, business leaders, and thinkers.
Join us for an exciting two-day event developed in partnership with the British Council all focused on this year's core theme, the global creative economy. Featuring a host of expert speakers, short talks, panels and audience Q&As all bringing new viewpoints, industry expertise and opportunities, join us for all this, plus partner events, a showcase of pioneering projects, and plenty of networking opportunities.
For our sixth year BEYOND 2023 offers a live programme of sessions, showcase, and social and networking activities, with on demand content available post-event.
Conference Programme
The two day conference in London (21–22 November 2023) will feature expert speakers, keynotes, panel discussions, think pieces and provocations, Q&As and plenty more including a series of sessions from our partners and a Research Symposium.
Immersive Futures Lab
The Immersive Futures Lab at BEYOND will give access to the very latest uses of technologies from Virtual Reality to Haptics, Spacial Audio and more. Play with early-stage prototypes demonstrating new types of content and uses of the tech, and meet the people behind some pioneering projects.
Special events
We will have a variety of additional activities alongside the main programme including networking and social events in and around our central London venue.
Get Involved
BEYOND 2023 is offering a range of opportunities for individuals and organisations to showcase their projects and research, host discussions and workshops, as well as meet new partners, funders and collaborators.
Schedule
The full interactive schedule is available for you to plan your two days. Visit the schedule and click on the day you wish to explore on the schedule. You can also narrow down further by selecting a location within the venue. Also available to download.
New Venue Map
Download a detailed map of the Royal Institution, showing where to find everything within the venue from the main auditorium to the Immersive Futures Lab, partner programming sessions and more.
BEYOND GLOBAL
The 2023 programme will explore the global landscape of creative economies and the new forms they are taking. We will look at big transformations led from the centre, and at grassroots-led movements gaining recognition for both the social and economic potential of the creative industries.
Globally new creative forms and formats are emerging at speed, but which will take hold, why and at what scale? We will be hearing from the makers behind some of the latest innovations with global potential.
It's going to be a diverse and exciting programme, with delegates and speakers joining us from the Philippines, Oman, Saudi Arabia, Indonesia, Hong Kong, Ukraine, Turkey, Georgia, Kyrgyzstan, and Ireland.
We will also be looking at where UK creatives are making their mark as part of international teams on some extraordinary projects. We will be asking what makes these partnerships successful and where the next big opportunities are to be found to work on ground-breaking international work.
Join us and take part in this big conversation on 21-22nd November.
Attend
Attend
Attend
Attend
Each year since 2018 the BEYOND community has come together to explore the big industry questions and discover the latest research through a rich, themed programme of events.
Last year's BEYOND in Cardiff was no exception with a programme taking place in the heart of the Welsh capital and online. 100 speakers participated in over 53 sessions examining our core theme of the role the creative industries will play in designing a zero-carbon future.
BEYOND 2023 promises to be yet another unique forum to get up close to the latest R&D, connect new constellations of ideas and build creative networks. Join us in November!
WHERE CREATIVITY MEETS R&D
➤ CONNECT with future collaborators, researchers and funders
➤ EXPLORE pioneering R&D projects across the UK's Creative Industries
➤ ENGAGE with the global conversation on innovation, creativity and opportunity
This year BEYOND sets out to explore the global landscape.
There is a growing worldwide recognition of the power of the creative industries to drive innovation, growth and social change, from ambitious strategies to transform whole nations to small, equitable initiatives to sustain and grow creative communities.
What opportunities does this vast ecosystem offer for creative research and innovative creative business collaborations? Where are UK creatives driving change and where do international actors have new policies and methodologies we need to understand?
Join us at BEYOND 2023 to expand your creative horizons and networks
For Business
Connect with creative innovators, thinkers, experts and researchers
Discover the latest innovations and creative technologies shaking up and redefining our sector
Hear case studies from groundbreaking projects
Experience first-hand demos from pioneering projects
Find collaborators, researchers and funders to build your organisation's capabilities
Explore international and inward UK investment opportunities
For Researchers
Discover recent developments in the creative arts
Connect with creative industry pioneers
Experience and engage with practice-led research projects
Connect and collaborate with leading creative tech businesses and industry stakeholders
Indulge in a core programme of thought-provoking panel debates and roundtables
Interact with local and international

tech enthusiasts and experts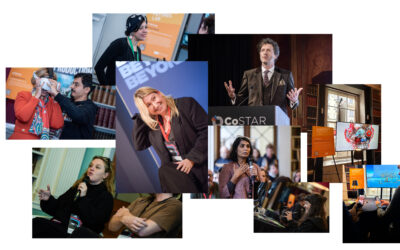 Last week we were at BEYOND, a conference about research and innovation in the creative industries. Each year hosts talks, panels and workshops from creatives and academics at the forefront of what's next – from AI to immersive tech, creative education, and what...
read more
Cardiff, October 2022
BEYOND 2022 headed to Cardiff where delegates enjoyed an event including innovation showcases, dinners and networking at the iconic Cardiff City Hall and National Museum Cardiff. Across a 3-day programme BEYOND 2023 looked at the role of the creative industries in building a zero-carbon future.